According to available information, the recent explosion in the Kolonia neighborhood of Berdiansk resulted in the destruction of the home of one of the local collaborators. This is what is reported by the telegram channel Berdiansk Segodnya.
The traitor Gyrenko Serhiy Before defecting to the enemy, he worked in the Berdiansk Executive Committee as an ordinary specialist in the Department of Information and Communication Resources. After the occupation of the city, he was one of the first to work for the occupier, sharing pro-Russian views. He actively agitated other employees of the executive committee to go to work for the occupiers. He threatened and betrayed his own.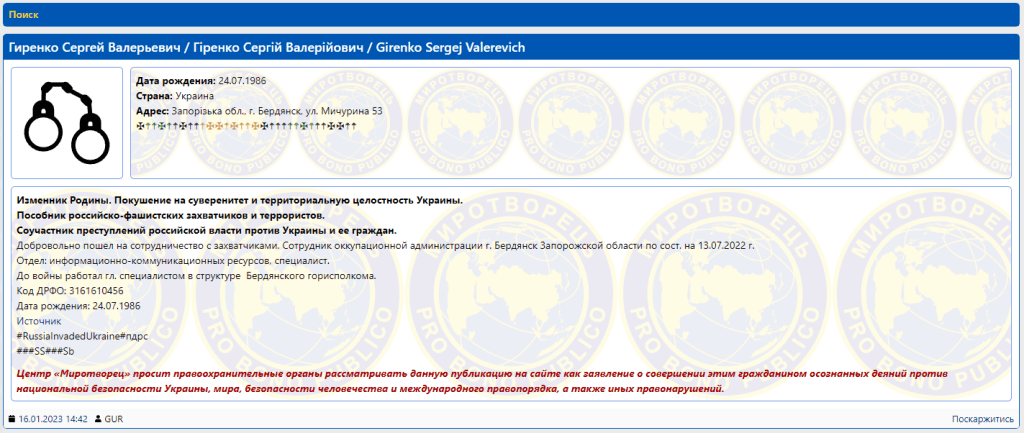 It was his denunciations that led to the arrests of city hall employees and their subsequent inducement to work in the occupation administration. In addition, he participated in forcing private enterprises in the city to cooperate with the occupiers on behalf of Russia and the new government.
Before the war started, the traitor's parents worked at school 16, and after the occupation, they gladly continued to work on the side of the invader.
Valeriy Gyrenko – chemistry teacher
Gyrenko Victoria is a biology teacher. The Education Department suspended their employment back in the summer.
The whole family actively supported the Russians and campaigned for the referendum, so their son's actions were highly praised.
Such activities of the former official did not go unnoticed by the Ukrainian special services, and in the spring of 2022, a case was opened against him under Part 5 of Article 111-1 of the Criminal Code – high treason.
The occupiers do not want to make this information public, because according to their version, there is no more partisan movement in the city. Moreover, it is already very difficult for them to contain panic among collaborators.
Yesterday, we wrote that a collaborator, Serhiy Moskalenko, was killed in occupied Nova Kakhovka. His death is also being covered up.