On the morning of August 1, the Russian Defense Ministry reported an allegedly "unsuccessful" attack by three surface marine drones on the Black Sea Fleet patrol ships Sergei Kotov and Vasily Bykov. The attack took place 340 kilometers from Sevastopol, and all the drones were allegedly destroyed according to the enemy.
Instead, Infolight.UA 's sources in the Ukrainian Defense Forces confirm the fact of a successful attack by naval drones, for which funds were raised through UNITED24. It is also known that the operation was organized and carried out by the Defence Intelligence of Ukraine in cooperation with other law enforcement agencies.
Later, Babel reportedthat among the attackers was the container ship Sparta-IV, which, according to Naval News and observers, was carrying weapons from Syria.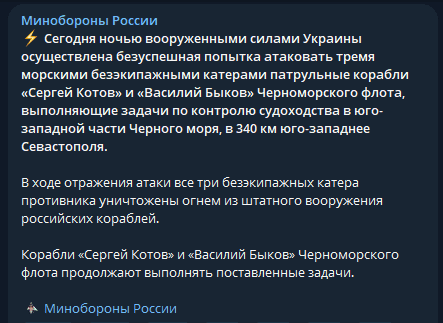 According to a source in the security and defense sector, Russian sailors on one of these ships are asking for the evacuation of the victims, which contradicts the statements about the "successful repulsion" of the drone attack.
Ka-29 helicopters were involved in the evacuation, and were ordered to deliver the bodies of the dead and wounded to the Black Sea Higher Naval School in Sevastopol.
In the intercepted conversation between the helicopter crews and the Russian coastal aviation services, the current coordinates of the ships' location are transmitted and the number of victims is specified.
At the time of the conversation, there was at least one dead and five wounded who needed urgent evacuation. There are also words about the need for an ambulance and a border guard to be present during the evacuation for "customs clearance," but what exactly is not specified.