Serious intimidation efforts are needed to paralyze experienced military intelligence officers. But the Russian attack on the officer's headquarters on Rybalsky Island in Kyiv in March 2022 crossed that threshold. The officers recall the "terror" of rockets falling, windows flying out, and dilapidated buildings collapsing around the edges. The men, who were waiting in the reception area to meet with their boss, fell to the floor. A moment later, the door next to them opened and Major General Kirill Budanov stepped out. "Everything is fine," one of them recalls him muttering before ordering them back to work. "He dusted himself off, put on his cap and went outside to inspect the damage."
General Budanov, 37, a former special forces officer, is the architect of increasingly bold operations inside Russia, making him a major irritant to the Kremlin. The intelligence chief's aides say that there have been "at least ten" attempts on his life. During the latter, on May 29, ballistic missiles, cruise missiles, and drones targeted Rybalsky's office. They barely missed it and the nearby road bridge, although the drones scratched another building. A day later, Vladimir Putin boasted of a "precise" attack that destroyed the complex. Pro-Kremlin media reported that General Budanov was evacuated to Germany and put into a coma. The Economist can confirm that none of these claims are true.
The intelligence officer's office, his undisguised address, has been radiating chaotic, twilight energy for 16 months. The windows are blocked with sandbags. The floor is littered with machine guns and body armor. There is a record player in the corner, but it plays Vivaldi from a YouTube playlist. The sense of absurdity is reinforced by an old frog swimming around the tank and a canary. On the wall hang memorabilia from General Budanov's war. In a nearby corridor hangs a photo of a March cross-border raid on Bryansk in Russia, allegedly carried out by independent Russian partisans. A large screen, the only light source in the room, displays a map of Moscow, the target of a drone strike in May.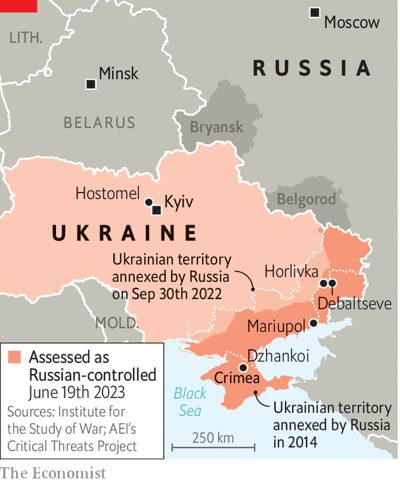 Ukraine has not reported any of these transactions. But Gen. Budanov hardly respects the official ambiguity. "We are at war," he says. "The drones over the Kremlin showed the world that Russian defense is just a Potemkin village."
The aides huddle closer as the general speaks. Under his leadership, Ukraine's Main Intelligence Directorate has become a brave, autonomous body that punches above its weight. It resembles a gang. "We used to have managers, now we have a leader," says one of the veteran officers. Oleh, an operative who has known General Budanov for decades, speaks highly of his ability to infect others with his enthusiasm, comparing him to a snake that "hypnotizes you before killing you. He's calm, measured, never panics. You do whatever he asks you to do."
General Budanov has opponents both at home and abroad. Rival intelligence services are concerned about its strength and resources. "It is logical that military intelligence becomes powerful in times of war," says one rival officer. "But without his signature, little can be done now." Even his friends describe the head of military intelligence as a "complex person." Some people find it difficult to get along with him, says Brigadier General Dmitry Timkov, a partner in dozens of operations. "He does not adapt to other people's opinions." The younger Budanov objected to commanders if he thought they were wrong. However, supporters say that he has a "sincere" side. A master of mind games in the outside world, says Oleg, General Budanov never extended this to his colleagues. "He realizes that you can't fool cunning people."
Volodymyr Zelenskyy's decision in 2020 to promote a little-known commander came as a surprise to many. But inside the services, Kyrylo Budanov's name was already legendary. The Kremlin also knew something about him. "For them, it was like holding a red flag," says Andriy Yusov, a special forces officer. "That's what convinced many of us that [President] Zelenskyy is a national security professional."
The newly appointed intelligence officer was known as the commander of a daring raid in 2016 to destroy helicopters at the Dzhankoi air base in Russian-occupied Crimea. The geography of the operation – in the backyard of the Russian special services – was quite audacious. On the way out, General Budanov's team also engaged Russian special forces, killing several, including a high-ranking commander. Later, the Russians retaliated for this raid with their own attacks, failing to reach General Budanov, but killing his immediate superior.
General Timkov, who is considered the second in command of the raid, has been unconvincingly denying the operation. But he offers another story that only complements the legend of the scout. In early 2015, he said, they were deep behind enemy lines in Donbas, in eastern Ukraine, when then-Lieutenant Colonel Budanov was hit by an anti-personnel mine. Shrapnel sank into his neck and shoulder blade, as well as just below his heart. "Kyrylo asked us to leave him." But the group refused, and the wounded officer staggered to safety more than 3 kilometers away by force of will. "He didn't say anything the whole way. It was so painful."
As the new head of intelligence, General Budanov adhered to the principle of "everything is possible" . The rescue mission to evacuate Afghans and other foreign nationals from Kabul in 2021 earned him praise. But he really shined after the full-scale invasion. In the early days when saboteurs were operating in Kyiv, the general was seen running around Rybalsky with a machine gun. He led critical operations at the Gostomel airport, Irpin and Moshchun, on the outskirts of Kyiv, which stopped the Russian advance – at least for a short time. He sent supply and rescue helicopters into the cauldron of besieged Mariupol. He participated in many frontline operations. His risk-taking worried some of his colleagues, who believed that their leader should be better protected – "and you try to stop him." The general says he is doing this only because other people are in danger. "Lives are at stake. There is no room for mistakes."
Western partners describe the Ukrainian intelligence officer as an honest and incorruptible player. According to Philip Ingram, a former colonel in British military intelligence, he now has access to more American and British intelligence data than the Germans or the French. However, his bravado is not welcomed by everyone. The leaked documents show that the CIA had to intervene to stop General Budanov from ordering an attack on Moscow on the anniversary of the invasion in February. Since then, sabotage and raids inside Russia have heightened the concerns of Ukraine's allies about provoking a nuclear war. General Budanov's statements about engineering Russia's collapse do the same thing.
However, he says that nine years of studying Russian aggression give him a unique opportunity to assess the risks of nuclear escalation. "As the head of intelligence, I'm telling you straight up: it's not going to happen," he says. "For all my dislike of the Russian Federation, there are not many idiots running this country." He insists that peace is impossible without Russia's strategic defeat and the "reformatting of power" in it.
Either everyone will leave the war at the same time, or one side will lose and the other will win. There are no other options
As the president's confidant – the government calls them soul mates – General Budanov is playing an increasingly important role in the behind-the-scenes peace talks. Sources report that he is an intermediary in secret negotiations with the Chinese and is also in contact with Yevgeny Prigozhin, the leader of the Russian mercenary group Wagner.
It is clear from our conversations that General Budanov thinks a lot about postwar Ukraine. Last winter, there was talk that he might become defense minister. He insists that his only political ambition is to defeat Russia. However, secret polls conducted by Mr. Zelenskyy's office show that they are thinking of using the cult of their spy hero to counter the (perceived) threat posed by Valeriy Zaluzhnyy, the likable and independent Ukrainian commander-in-chief. General Budanov's colleagues say they are convinced that he is destined for a major political role after the peace comes – if he lives to see it.
Source: The Economist translation by InfoLight.UA research and analysis group.
Support our work: