Enough time has passed to present a first analysis of the Russian information operation "Maidan on February 24" and draw some conclusions.
We made the first analysis on March 20, when this topic was just being promoted, and published the following video:
The video was about information training. Let us briefly outline the chronology:
On March 16, a video of a girl named Nastya appears, saying that she is the daughter of a prisoner of war who has been in captivity for almost a year. In this video, she invites everyone to Independence Square on March 24 at 12:00. This video was published on TikTok and has now been removed. However, on that day, it was distributed by anti-Ukrainian telegram channels, in particular, "(U) Ukrainianism (G) of the Main (M) Brain".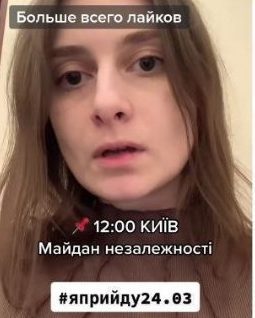 On March 17, videos of allegedly military personnel and volunteers begin to appear, also calling for people to come to Maidan to "ask questions of the authorities." Without reference to Nastya.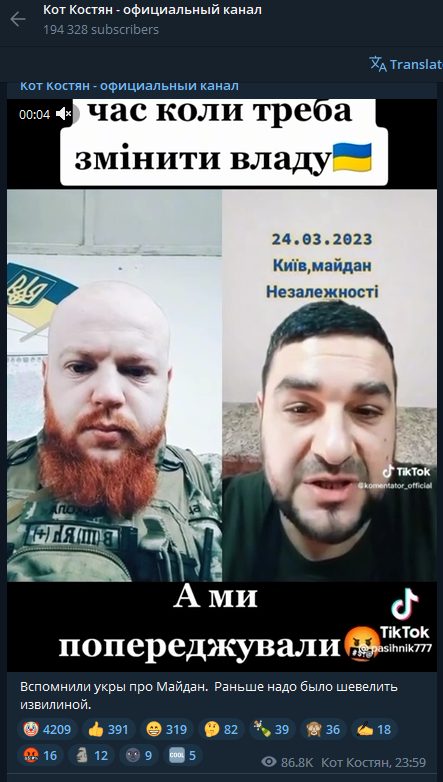 Videos calling for people to come to the Maidan are also published by non-anonymous figures, such as Khlyan Ihor from Lviv.
On the same day, in the evening, Russian telegram channels and minor media outlets, such as Podmoskovye Segodnya, Voennoe Delo, etc., began to spread the news as news.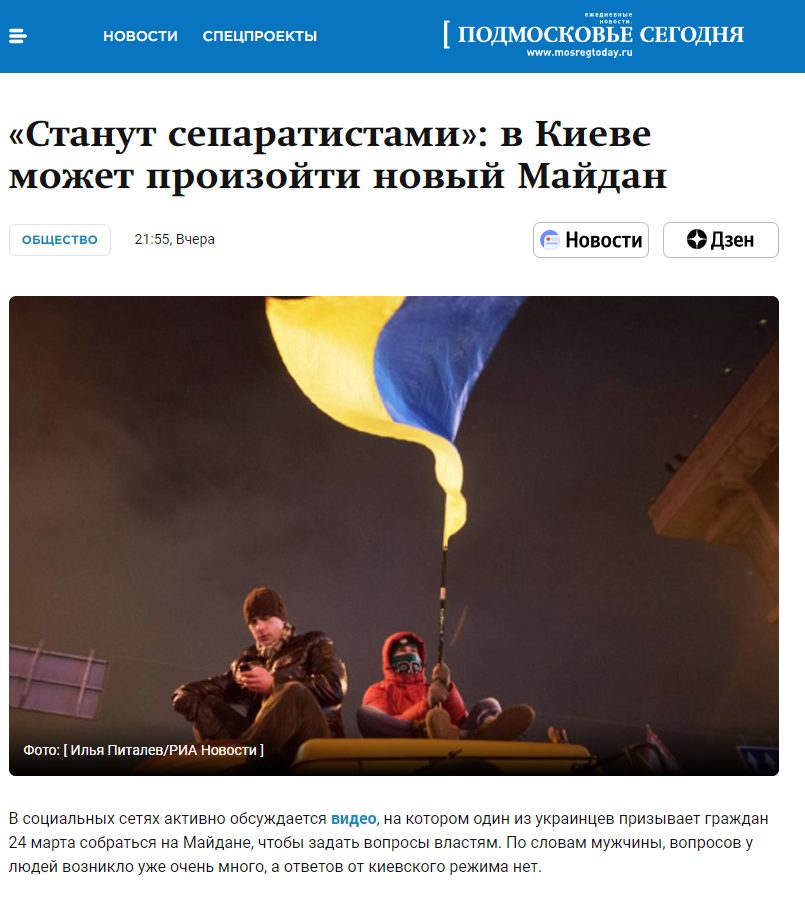 On March 18, around 17:00, the event was canceled, as reported on the organizers' public pages on Polon.ua. It is interesting that Russian propagandists continue to promote this event by massively disseminating the same photo – a screenshot from TikTok.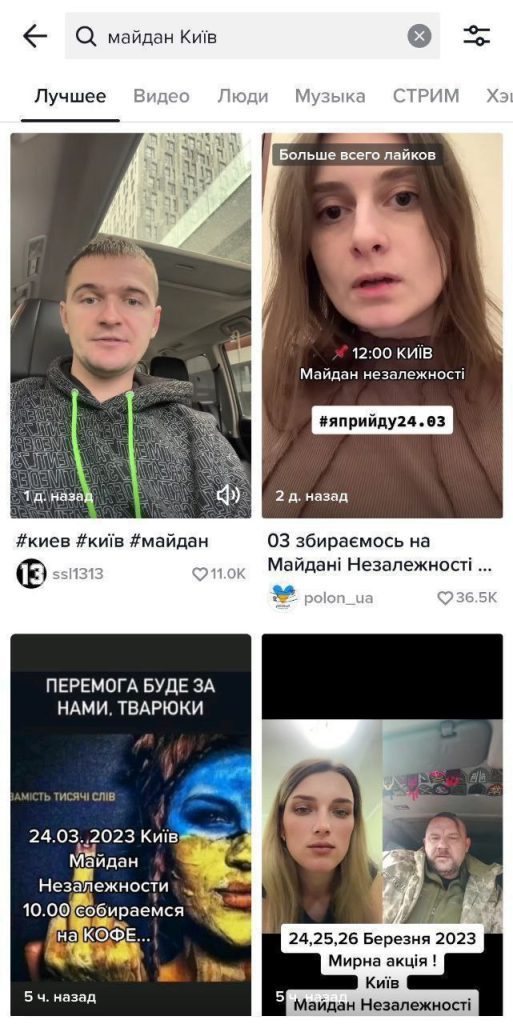 In our research of February 20, we assumed that nothing would happen on February 24 on Independence Square. By and large, this is what happened. Approximately 10-20 people were recorded, half of whom were probably representatives of law enforcement agencies and casual spectators.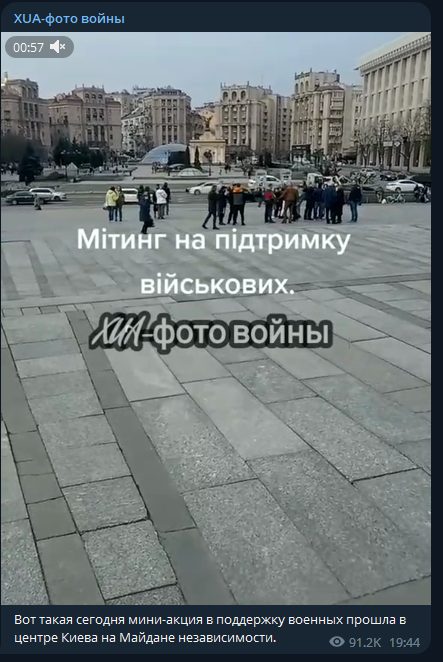 As you can see, the final thesis launched by Russian propagandists is that "no one in Ukraine cares about the fate of the military."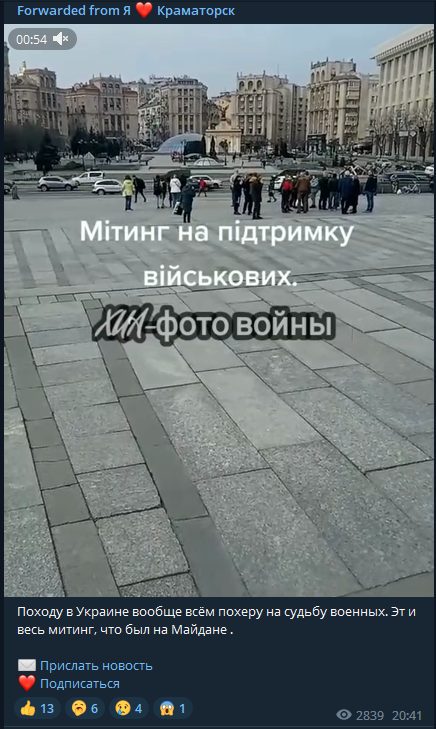 We monitored the spread of information about the event using a special monitoring system based on machine learning, in this case, analyzing Twitter and Telegram.
As you can see, the campaign was launched on March 16, promoted rapidly on March 17-18, and after March 19, there were almost no new posts.
Our conclusion:
A brilliant operation to promote a new pool of pro-Russian bloggers and channels took place before our eyes and with the direct participation of many patriotic Ukrainians. Since all the former "opinion leaders" who spread the narratives of "prisoners are not exchanged," "Azovstal defenders are forgotten," etc. are well known to our special services, and many of them are under various forms of preventive measures, there was obviously a need to promote new ones.
This has so far been the only actual result of this information operation.
Because rallies of the families of prisoners in the center of Kyiv and other cities are taking place regularly, as are calls by the pseudo-military to "punish the criminal government." For example, we can recall the January 14 action, which the Russian media dubbed "Widows' Square". However, this thesis did not catch on at the time. Before that, there were "Maidans" in December, November, October, September, and August, which you most likely never heard of, because they gathered a few hundred people at most, and the provocateurs were neutralized, among other things, thanks to the information work of our InfoLight.UA initiative.
It is also worth noting that the Coordination Headquarters for the Treatment of Prisoners of War is actively working with the families of prisoners of war. Exchanges take place regularly. This reduces the ground for such protests.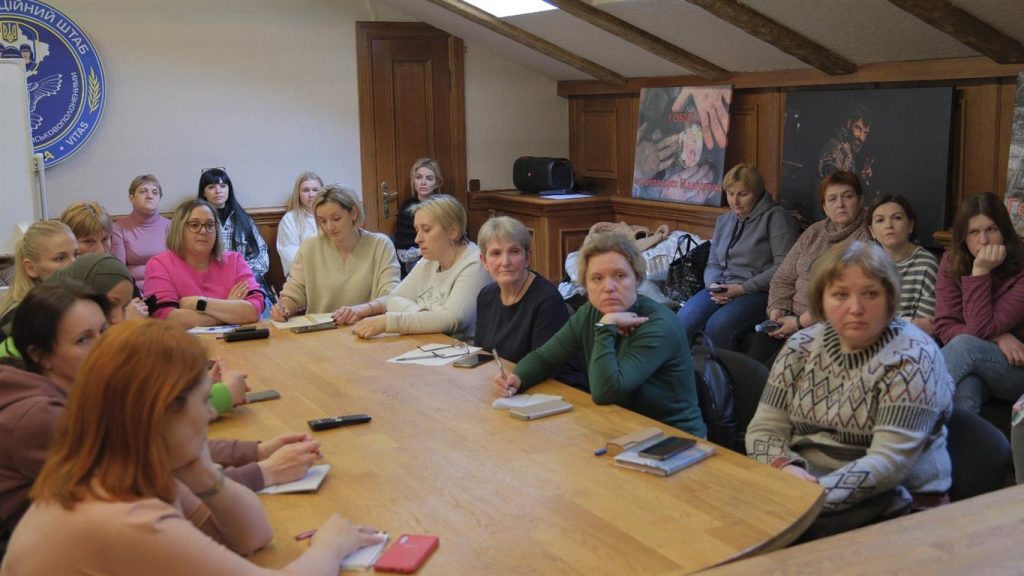 Therefore, the enemy has no choice but to spread conspiracy theories and create artificial information pretexts.
Be vigilant and do not fall victim to information provocations.